A baby shower is a unique event that allows friends and family of the mother-to-be to celebrate their new baby. Baby showers are a lot like bridal showers, in the fact that party-goers usually play games, give gifts to the guest of honor, and use the event as a reason to celebrate and have fun.
The organizers of the baby shower usually also prepare favors for the guests, to thank them for coming. Many organizers prefer to give a single baby shower favor, such as a nice miniature photo frame or a baked good, like fudge. These fit nicely in favor boxes, like this cute bee-themed one we offer: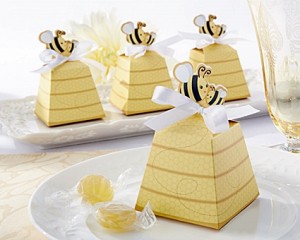 For organizers that want to fill favor boxes for the baby shower guests, there's a variety of small, fun items that could be included, such as cookie cutters, key chains, earrings, nail polish, and other items that guests may enjoy.