As we always say, an ideal wedding is all about the details. If you're going for a minimalist, ultra-modern, neutrals, or black-and-white theme for your wedding, this Bride & Groom Chair Sash Set may be the perfect final touch to your wedding reception details: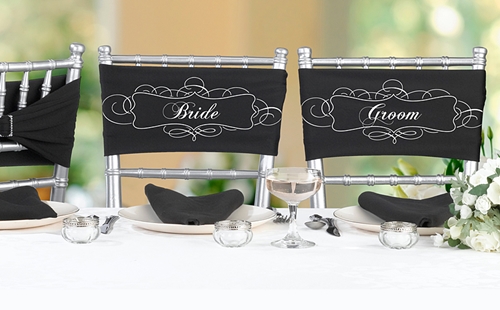 While just about everyone will know who the bride and groom are, and their tables are usually set apart from the guests at the wedding reception, to have these sashes across their chairs adds a unique, elegant touch to the wedding.
More than that, the bride and groom may also keep these as mementoes of their special day. And if they are sentimental, they could always reuse these on their 10th, 25th or 50th anniversary celebrations.
This chair sash set will work perfectly with a silver theme, as well. Black and silver themes are good choices for those with modern tastes, and there are some brides who even go for all-black wedding themes. A perfect way to complement those themes!