A guest book and pen set is one of the best ways you can keep track of all the guests that were at your wedding, other special event, or location, such as a bed & breakfast. Recording handwritten, unique entries from your guests as they arrive is one of the most memorable ways to relive the event.
Our website offers many guest book and pen set options, including our popular rustic romance set, which has been a hit at outdoor weddings and events with a pastoral theme: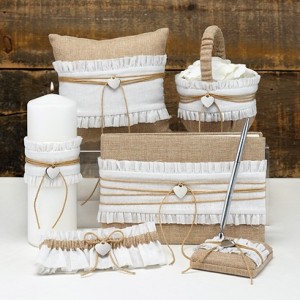 Many of our wedding accessories sets include not only a guest book and pen, but also a unity candle, flower girl basket, ring bearer pillow and garters. Other sets include a cake knife and server, champagne toasting glasses, or a unity sand ceremony set.
Whether you are looking for an ensemble or just the basics, our selection makes it easy to choose bridal accessories that will help you keep your memories from your loved ones safe for many years to come.