When it comes to a bridesmaid gift, brides often look for something that will be praised by their attendants, reminds them of their wedding moments in the years to come, and is distinctive yet also useful. An engraved glass jewelry box can be the perfect gift.
Whether it's earrings, a charm bracelet, a necklace or a designer adornment, these Engraved glass jewelry boxes have ample space to fit all your jewelry pieces. This jewelry box has an elegant design with a beaded-edge lid and is the perfect place to keep your collection of jewelry as the clear glass sides bring out the beauty of the baubles inside the box.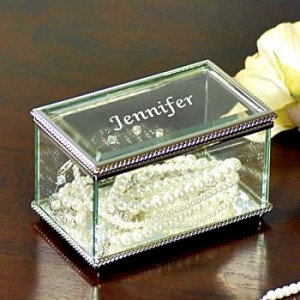 Another design with glass sides, an antiqued-metal frame and black velvet lining is available in your choice of square or rectangular shape. These are ideal gifts for your wedding party and you can't really go wrong with their elegant design and style appeal.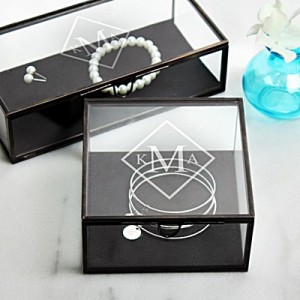 Better yet, the jewelry boxes can be customized with a name, initials or trending diamond monograms giving them a personal touch, something the recipient will truly appreciate.