As they say, it's all about the packaging and presentation. You'll love these cute flower topped favor boxes for a garden wedding reception, baby shower, birthday or any outdoor celebration, for that matter. They're sure to add some colorful vibrancy to your guest tables. You can also play around with colors to suit your taste as colors can be customized for both the flower top and boxes. Complete the presentation with personalized labels on the front.
Choose from these classic daisy-topped boxes: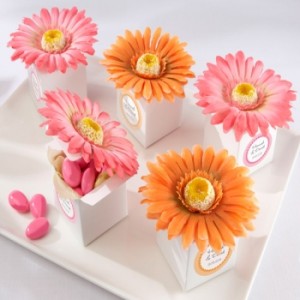 … to these favor boxes with romantic faux Victorian roses atop: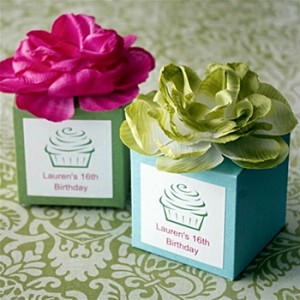 … to these fun shabby chic flower-topped boxes:
Fill up these beautiful custom favor boxes with some delicious Hershey's Kisses, mints, or other sweets of your choice. It can be a good idea to have them all set up on a tray for guests to pick them up. Celebrate your special occasion with this great fusion of elegance and sweetness.